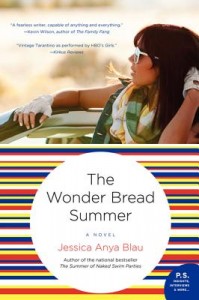 Ever start a book – even a book you were really interested in – and find that you just can't get into it? I really tried to get into The Wonder Bread Summer
by Jessica Anya Blau, but I gave up about 30 pages in. That's really early, even for me. We start off with Allie, working her job at the dress shop. Well, working might be a stretch. She's in the fitting room with her boss, snorting coke and showing him her tits. You see, she hasn't gotten a paycheck yet, and her boss really wants to see her naked, so maybe? In another 10 or 12 pages she still hasn't gotten her paycheck, but she has absconded with the Wonder Bread bag full of cocaine that her boss had stashed in the fitting room, and she's trying to use some of it to pay for gas to fill up her car.
I can suspend disbelief with the best of them, but just a few pages in and I already hated Allie. At my worst, I can't imagine behaving the way Allie did, and I don't really want to read a book about a character I think is an idiot. Maybe this would speak to someone of a younger generation, but it really didn't do much for me.