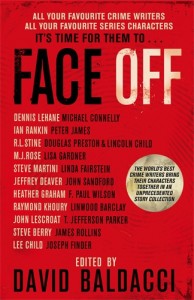 Now, this is a book that had me hooked from the very first pitch!
Ever wonder who would win in a fight if the most popular thriller characters were paired against their most worthy opponents? Would you bet on Lee Child's Jack Reacher or Joseph Finder's Nick Heller, or even Dennis Lehane's Patrick Kenzie over Michael Connelly's Harry Bosch?
Oh yeah! If you love your detectives the way I do, I know that you have daydreamed about pairing them up. FaceOff
is less about these characters fighting it out, it's more about them teaming up and working together. And that is worth the price of admission.
It certainly says something about the quality of work that Simon & Schuster puts out that they have so many great characters to pair up. And I will warn you, Readers: you are going to get hooked on new series. You might as well know that going in. Unless you have a lot more spare time than I do, there are going to be characters here that are unfamiliar to you, and I guarantee these stories are going to make you want to run right out and pick up a few of their adventures. (You know the great thing about a Kindle Fire
? No matter how many books you put on it, it never gets any heavier.) Smart thinking, S&S.
Now, the stories! I don't even know where to begin. The weirdest and creepiest of the bunch was Special Agent Pendergast (Douglas Preston and Lincoln Child) vs. Slappy the Ventriloquist Dummy (R.L. Stine) – it sounds bizarre, but it works. Now, I am not a Pendergast fan – on paper, it seems like the sort of thing I should love, but I don't) and I haven't read any of Slappy's…adventures, but that didn't matter. The story is great and I can't think of a better way to pair up this odd couple.
The first of my absolute favorites was Lincoln Rhyme (Jeffery Deaver) vs. Lucas Davenport (John Sanford). I have many of the Prey novels (several of them autographed, after meeting Sanford several years ago at a book signing) and I've read several of the Lincoln Rhyme novels, so I knew this was going to be good. The characters are so different and they butt heads ion such interesting ways. In addition, you've got their trusty sidekicks – Amelia Sachs and Lily Rothenburg – to spice things up. Really fabulous – I would love a full-length novel of this pairing!
But really: Nick Heller (Joseph Finder) and Jack Reacher (Lee Child). I can't say "versus" there, because they really end up working together. I'm familiar with Jack Reacher, read a few of the books, and I've already ordered a couple of Heller novels. This one was so much fun – from the Yankees-Red Sox rivalry, to the fact that some poor Boston accountant got more help, for free, than he could have possibly paid for and he didn't even know it! Great, great story.
So, thanks to my friends at Simon & Schuster and Meryl L. Moss Media Relations for providing this free Advanced Reader Copy of FaceOff
. The rest of you – hit your local bookstores and libraries for it. And start saving your pennies, because I guarantee this book will spawn a shopping spree!