And the next great book from William Morrow: Season of the Dragonflies
 by Sarah Creech: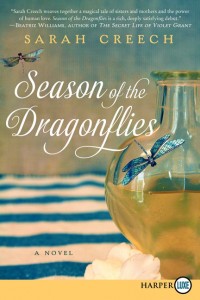 For generations, the Lenore women have manufactured a perfume unlike any other, and guarded the unique and mysterious ingredients. Their perfumery, hidden in the quiet rolling hills of the Blue Ridge Mountains, creates one special elixir that secretly sells for millions of dollars to the world's most powerful—movie stars, politicians, artists, and CEOs. The Lenore's signature perfume is actually the key to their success. 

Willow, the coolly elegant Lenore family matriarch, is the brains behind the company. Her gorgeous, golden-haired daughter Mya is its heart. Like her foremothers, she can "read" scents and envision their power. Willow's younger daughter, dark-haired, soulful Lucia, claims no magical touch, nor does she want any part of the family business. She left the mountains years ago to make her own way. But trouble is brewing. Willow is experiencing strange spells of forgetfulness. Mya is plotting a coup. A client is threatening blackmail. And most ominously, the unique flowers used in their perfume are dying. 

Whoever can save the company will inherit it. Though Mya is the obvious choice, Lucia has begun showing signs of her own special abilities. And her return to the mountains—heralded by a swarm of blue dragonflies—may be the answer they all need.