Sometimes, those press releases I get come in handy! I recently received this from Galley Books and I was intrigued enough to pick up the ebook. (Those $.99, $1.99 ebooks are going to bankrupt me eventually.)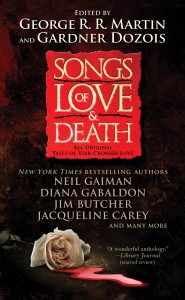 SONGS OF LOVE AND DEATH edited by George R.R. Martin and Gardner Dozois with stories from Diana Gabaldon, Neil Gaiman, Jim Butcher, Marjorie M. Liu, and many more. (E-book version $1.99)
A groundbreaking anthology featuring stories from some of the most prestigious names in romance, fantasy, and science fiction, edited by George R.R. Martin and Gardner Dozois.
Featuring stories from and about the heart, these tales of romance are played out against every kind of setting, from ghost-haunted fantasy landscapes to mile-long spaceships in transit among the stars. Including some of the most well-known, bestselling, and award-winning authors in the industry, this must-have collection features an original story set in the Outlander universe from Diana Gabaldon, Neil Gaiman, Jim Butcher, Marjorie M. Liu, and many more including Robin Hobb, Jo Beverley, Jacqueline Carey.
Co-edited by blockbuster bestselling author George R.R. Martin, whose fantasy series A Song of Ice and Fire serves as the inspiration for HBO's Game of Thrones, and Gardner Dozois, one of the pre-eminent anthologists of science fiction and fantasy and winner of fifteen Hugo Awards, Songs of Love and Death is a star-studded cross-genre anthology that explores the borderlands of fantasy, science fiction, and romance.