I've got 3 new books to tell you about, all from the nice folks at Harper Collins. First up, The Bully of Order
: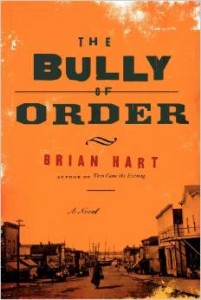 Set in a logging town on the lawless Pacific coast of Washington State at the turn of the twentieth century, a spellbinding novel of fate and redemption—told with a muscular lyricism and filled with a cast of characters Shakespearean in scope—in which the lives of an ill-fated family are at the mercy of violent social and historical forces that tear them apart.
Keen to make his fortune, Jacob Ellstrom, armed with his medical kit and new wife, Nell, lands in The Harbor—a mud-filled, raucous coastal town teeming with rough trade pioneers, sawmill laborers, sailors, and prostitutes. But Jacob is not a doctor, and a botched delivery exposes his ruse, driving him onto the streets in a plunge towards alcoholism. Alone, Nell scrambles to keep herself and their young son, Duncan, safe in this dangerous world. When a tentative reunion between the couple—in the company of Duncan and Jacob's malicious brother, Matius—results in tragedy, Jacob must flee town to elude being charged with murder.
Years later, the wild and reckless Duncan seems to be yet another of The Harbor's hoodlums. His only salvation is his overwhelming love for Teresa Boyerton, the daughter of the town's largest mill owner. But disaster will befall the lovers with heartbreaking consequences.
And across town, Bellhouse, a union boss and criminal rabble-rouser, sits at the helm of The Harbor's seedy underbelly, perpetuating a cycle of greed and violence. His thug Tartan directs his pack of thieves, pimps, and murderers, and conceals an incendiary secret involving Duncan's mother. As time passes, a string of calamitous events sends these characters hurtling towards each other in an epic collision that will shake the town to its core.