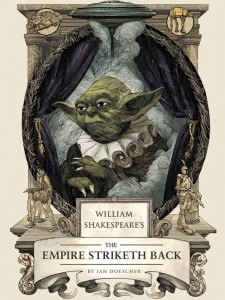 If you read my review of William Shakespeare's Star Wars, then you know what to expect from William Shakespeare's The Empire Striketh Back
by Ian Doescher. They are fun little tidbits, translating Star Wars into something The Bard would have been proud of.
Luke Skywalker, on his battle with the Imperial Walkers:
A hit! A very palpable hit. Wait,
Although my shots have found their mark, their blasts
Have no effect, It is their armor, fie!
Our blasters are too weak to penetrate
The strength of their robust exteriors.
Rogue group, use thy harpoons and cables, too.
Let us go for their legs and trip them up –
Perhaps they can be bested from beneath.
Dack, art thou with me?
Leia, after Han is frozen in carbonite:
Full fathom five my lover lies
Within an icy tomb,
They say he lives, but my heart dies,
Sing wroshyr, wroshyr, wroshyr.
Fun, but to be honest, it gets tiring for me after a while.
I would love to give these to a bunch of eighth graders — I think they would make a great introduction to Shakespeare, a way of showing that Shakespeare's language isn't impenetrable and difficult, just different. Other than that, I think you need to be a real Star Wars geek to truly appreciate these.
My copy of William Shakespeare's The Empire Striketh Back
was an Advance Reader Copy, provided free of charge.