Oh boy, do I have a stack of books to share with you! Check this out…A Bowl of Olives: On Food and Memory
 by Sara Midda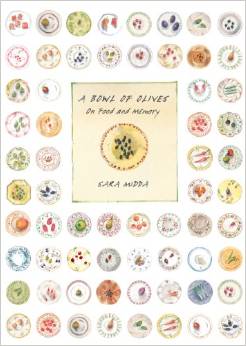 From the author of the international bestseller In and Out of the Garden and the wondrous sketchbook Sara Midda's South of France comes a long-awaited treasure of a book. Drawn from the artist's wealth of impressions and memories, it is a book for lovers of food and art and fine gift books—a book for anyone who, upon arriving in a new town, seeks first the local market, or who believes the best thing to do on a given night is to share a table with friends.
Sara Midda is a watercolorist whose delicate and beautiful paintings shine like jewels, evoking the sweet purple taste of a summer raspberry or the silvery greens and gnarled burnt umber of an olive grove. And she is also a collagist, weaving together photographs, line drawings, her personal swatches—all the hues of a spice cabinet, or the sensations of a picnic, the colors of the breeze, sunshine, laughter, the cooling grass. And a poet, in love with words that sing, like podding and wicker, nettle and snug.
By turns reverent and playful, A Bowl of Olives is a work of pure enchantment, celebrating food—of the seasons, of family, of travel and memory. It is as richly layered as a favorite meal.
The book is cloth-bound, jacketed, and printed on uncoated stock to convey the feeling of an artist's sketchbook.