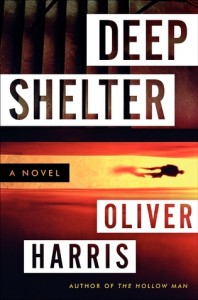 Let me start off by saying: I loved this book. Nick Belsey is a sorry excuse for a cop, probably a worse boyfriend, but he is smart and determined and he just does not quit.
Deep Shelter
 by Oliver Harris is a terrific story, full of twists and turns, with a lot of great characters. Belsey is trying to find a suspect that disappeared down a rabbit hole. Instead, he finds a tunnel that leads into an old wartime bunker underneath London. It has offices and dorms and workspaces, it's fully stocked with food and medical supplies — he even finds cases of champagne. They were new went they went down into the tunnels, but they are vintage now. So, of course, Belsey does what any good cop would do: he calls his dealer and his fence and makes plans to sell the drugs and the booze. Then he invites his new girlfriend, someone he arrested a while back, on a romantic trip to the tunnels.
Belsey took the candle and walked into the dorm. Bunk cages danced in the wavering light. No sign of her. He waited for his date to jump out. That would be classic. She didn't.

"Are you OK?" he called, and his voice sounded like the voice of someone on their own.
Incredibly creepy. And it gets even creepier when he starts getting text messages and emails, taunting him. He knows that if he reports her disappearance, he'll be the prime suspect, so he doesn't report it. Instead, he investigates on his own. The investigation leads into an incredibly twisted story of wartime preparations, top-secret cover-ups and a city beneath the city.
If you like complicated storylines, you'll love this. There is so much going on, so much backstory, so many interesting twists and turns that I could not put this down. I like Belsey – he's a crooked cop, but he's trying to do the right thing. He's got quite an assortment of equally bent contacts, and they make for an interesting crew. The book makes me want to go back to London — I've been to a few of the locations mentioned in the book, like St. Pancras Station, but not many — and look for the landmarks in the book and dream of a secret city beneath my feet.
My copy of Deep Shelter
is an Advance Reader Copy, provided free of charge.