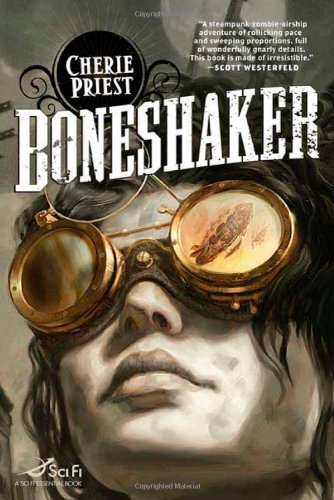 This is a book I started ages ago, but I lost track of it on my Kindle (I keep forgetting that it stores galleys as documents, not books). When I managed to unearth it, I was thrilled to be back in the world of Boneshaker
by Cherie Priest. It's set in the wild and woolly Seattle of the 1880's, with some major revisions. The city, its population swelled from the Klondike gold rush, has been devastated. The Boneshaker, a mining machine designed to dig through the Klondike ice, has malfunctioned and run wild beneath the city, collapsing buildings, creating tunnels, killing hundreds, and releasing deadly gas from deep underground. The gas, called Blight, boils up from the tunnels and clings like a thick fog. It kills plants and animals, corrodes metal, and turns the humans who breathe it into a sort of zombie, called Rotters. In an attempt to save what they could, the city was walled up, trapping the Blight and the rotters inside. The walls created a lost city, crumbling into ruin, inhabited by the walking dead and those hearty souls who have carved out a living in the basements, vaults, and any place that offers a little clean air.
Briar Wilkes has gone back to using her maiden name, because being the widow of Leviticus Blue does not endear her to her neighbors; Leviticus Blue invented the Boneshaker, after all, and many still hold him responsible for the devastation in the city. She has tried to shield her son, Zeke, from his awful history, but the curiosity of a teenage boy is a powerful force. Zeke has decided to sneak into the walled city, find his mother's home, and bring back evidence that his father was innocent. When she realizes what he's done, Briar has no choice but to go in after him.
Their adventures in the city make for a great read. There are pirates and villains, the Chinamen who built and maintain the machinery that keeps the underground inhabitable. There is a good-hearted woman, Lucy O'Gunning, with her strange mechanical arm, and a mysterious villain named Dr. Minnericht, who hints at an even more villainous past. It's about a mother's love for her son – all that she's done, all that she's tried to do, and all that she is still willing to do to protect him, even if he hates her for it. It's about how you keep going after tragedy strikes and find a way to live with yourself. And all through the book there are great stories of underground palaces, murderous rotters and shifting alliances – enough to keep you turning pages well past the time you should blow out the candles and turn in for the night. The ending was great (and I've had too many disappointing endings lately) and makes me want to pick up the next book right away. It was a great story and my only regret is that I didn't finish it sooner. The bonus is that the sequels are all lined up for me!
For more on the wondrous alternate universe of Boneshaker,  check out The Clockwork Century and Cherie's homepage. My copy of Boneshaker
 by Cherie Priest was an Advance Reader Copy, provided free of charge.