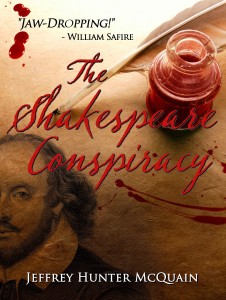 The Shakespeare Conspiracy (A Christopher Klewe Novel Book 1)
, by Jeffrey Hunter McQuain
What makes a secret worth dying for? That's what Christopher Klewe, a brash young professor from Virginia, finds out in Jeffrey Hunter McQuain's new thriller "The Shakespeare Conspiracy" when he stumbles upon the most shocking cover-up in literary history.
On a rainy Halloween at Washington's Kennedy Center, a masked killer brutally stabs Klewe's best friend. Before dying, the victim deliberately drops his raincoat across a puddle and scrawls the letters "SoN" in his own blood. Investigating the murder scene, Klewe is joined by Zelda Hart, a married reporter for The New York Times. They learn the victim's ear was severed and find evidence of a 400-year-old secret society. When questioned by police, Klewe reveals the surprising question he's been researching: was Shakespeare black?
Outside Kennedy Center, they meet a drunken security guard who saw the murder and swears that "Shakespeare did it." Klewe and Zelda grow less skeptical when a figure wearing a Shakespeare mask and wielding an Elizabethan dagger chases them into the Metro subway system toward Maryland.
After being cornered in a remote Maryland cabin by the killer, the two escape to look for answers at Shakespeare and Company, a famous Paris bookstore, as well as in London's Globe Theater. As they solve each step of the mystery, though, they face new obstacles to overcome and more clues to unravel in their search for the truth.
Pursued across two continents by murderers, the desperate Klewe and Zelda have only three days to solve the strangest mystery of Renaissance history. The evidence mounts up, drawn from actual anagrams hidden in Shakespeare's own words as well as historically accurate descriptions of Elizabethan paintings and observations made by the playwright's contemporaries.
Their dangerous journey takes them ultimately to Stratford and the Bard's final resting place. There the words of the playwright's epitaph help thwart the deadly conspiracy.
Once hailed as "a jaw-dropping premise" by the late columnist William Safire, "The Shakespeare Conspiracy" is the first novel by a published Shakespeare expert. It offers readers the twists of a thrill ride reminiscent of "The Da Vinci Code" as well as that novel's excitement of wondering whether its central secret just might be true. If so, this new thriller has the potential to expose the biggest literary conspiracy of all time, offering a whole new way of looking at the world's greatest writer, William Shakespeare.