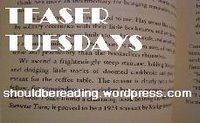 Good morning and welcome to another edition of Teaser Tuesdays!  I just finished a really fun book and I am all excited about sharing a Teaser or two!  You know how this works: Open your book, select 2 teaser sentences that will make us want to rush right out and read it ourselves, and post them here for us.  No spoilers, please.
My book this week is Alone by Loren D. Estelman, and it's the second book in his Valentino series (wasn't I just talking about loving detective series?  Hmmm.)  This book is perfect for movie buffs – it centers on a murder mystery involving secret love letters that Greta Garbo may (or may not) have sent to a female companion.  Estelman has a wonderful, sharp sense of humor and I am looking forward to checking out his earlier book.  After all, if Ray Z. Padilla can make me laugh with just one word, it's got to be good:
"What's the Z stand for?"

"Xylophone."
What's teasing YOU this week?