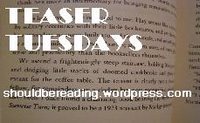 Good morning and Happy Tuesday!  With travel and vacation, I've missed this meme recently, but I am glad to be back.
Now, you know the rules: open your current read, pick 2 teaser sentences to share and don't spoil the story!   But do make sure you tell us a bit about the book.
This morning, my teaser is from Heresy by S. J. Parris.  I am devouring this one — about a renegade monk and some murders at Oxford College — and I chose this Teaser from early in the book.  It shows just how little it took to bring down the Inquisition:
"As a matter of curiosity, why did you abandon the monastary?"

"I was caught reading Erasmus in the privy."
Not familiar with Erasmus?  He was a classical scholar who frequently criticized the Catholic Church and was responsible for some very familiar phrases we use today, such as "opening Pandora's Box."
What is teasing YOU this week?