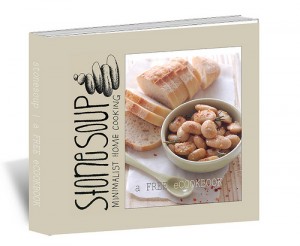 I talked in an earlier review about looking for simple recipes for this abnormally hot summer weather – preferably recipes that did not require cooking.  Well, I believe I have found just the thing and the best part — it's absolutely free!
A friend suggested I check out that Stone Soup Cookbook and what a terrific find!  The cookbook is available as a free download, which makes it even better.
I did some reading on The Stone Soup blog and it is definitely one I will be going back to.  Jules Clancy is a recipe writer focused on minimalist cooking: minimal time spent cooking, minimal number of ingredients, minimal amount of kitchen equipment.  As much as I love preparing an elaborate meal, sometimes — especially in the heat of summer — I want something simple and quick.
The first recipe that really struck me was the Bocadillo with Jamon.  This is basically bread and ham, very similar to the lunches we have at my company's office in Amsterdam, and to the sandwiches I've had at Paris cafes.  Very good bread, very good ham, and you don't need dressings or fixings.  And there are a dozen side salads in the book that would be a perfect accompaniment.  I love the looks of the Chickpea & Parmesan Salad (and I have all the ingredients in the fridge!) and the Shaved Cabbage Salad with Parmesan and Balsamic.  Simple and tasty.
Tonight, I plan to try the Veggie Laksa – a coconut milk soup with curry paste and Singapore noodles.   I know that the Pasta with Pork Sausage and Crushed Peas will be on the menu soon, too.  I love Asian food and the 2 Minute Noodles with Bok Choy and Oyster Sauce looks fabulous.  I also think the Ricotta and Basil Open Omelette looks like a great brunch dish.
These are lovely, simple dishes, with clear instructions and no fancy equipment required.  The photography is beautiful and that's always a plus.  And the recipes are all free!  How can you beat that?  So check out the blog, download the cookbook, and let me know what you've cooked!