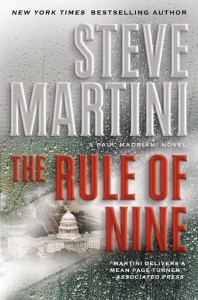 If you wanted to completely change the face of American politics, what would you do? If you had nothing left to lose, what risks would you take? In Steve Martini's The Rule of Nine
, one character decides on a dramatic plan to change the political scene for decades to come. The Old Weatherman is dying — he has nothing left to lose, a fortune at his disposal, and an idea so crazy that it's not on anybody's radar. The Rule of Nine is a great twisty, exciting, political thriller.
I was only a little surprised to read that Steve Martini introduced Paul Madriani, his likable criminal defense attorney, nearly 20 years ago. It seems like I've been reading these novels forever. He's a great character with a great supporting cast — always important in any fiction series. The thing that makes a great political thriller, for me, is that it has to be a bold idea, but not so out there that it seems impossible. The Old Weatherman's plan is bold and it's crazy, but not so crazy that I can't imagine someone trying to pull it off. I was actually disappointed in myself — it took me way too long to see where this novel was headed. Of course, I was distracted by a couple of murders, a mad dash across the country, a flirtatious weapons control expert, and the reappearance of The Mexicutioner. So even if I didn't see where we were going, I really enjoyed the ride.
A Senate staffer is murdered and Madriani is implicated. The victim's father, a powerful Chicago attorney, is not convinced that the FBI is doing enough to solve the case — he smells a cover-up. The tendrils of the investigation connect a host of characters: Madriani; his colleagues, Harry Hinds and Herman Diggs; lobbyist and weapons expert Joselyn Cole; assassin Liquida Muerte (aka the Mexicutioner). When it becomes clear that this case may have prompted Liquida to target people close to Madriani, it becomes a race to expose the plot before anyone else gets hurt.
In the background, there's a plot. There are large amounts of money moving around. There are foreign locales, weapons deals, airplanes, murders and accomplices. There are enough shadowy, unnamed characters to keep you wondering who is telling the truth and who is plotting against the government — not everyone is on the up and up. That's what I love about a good political thriller. I want a story that keeps me guessing, that gives me plenty of clues but never really spells things out until the big reveal. The Rule of Nine
really delivers. I was puzzled and confused and excited right up to the last pages.
My copy of The Rule of Nine
was an Advanced Reader Copy, provided free of charge.