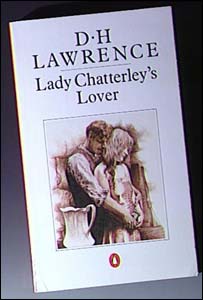 When the government attempts to ban a book, what do other authors think?  I've certainly read comments from authors when the local library tries to ban Harry Potter or Captain Underpants or something else equally silly.  But what sort or reaction would authors have if the government tried to make these books unavailable?
Back in 1960, the British government tried to ban D.H. Lawrence's classic, Lady Chatterley's Lover, under the 1959 Obscene Publications Act.  At issue were the book's "purple passages" and more than 30 uses of the f-word.  (I have fond memories of watching Sean Bean and Joely Richardson bring those purple passages to life on the screen. )  A number of British authors came to the book's defense, with letters and depositions that have been stored in Penguin Publishing's archives.  Now, those letters will be released in a new edition of Lady Chatterley's Lover being released next month to mark the 50th anniversary of the obscenity trial.
The writers include Aldous Huxley, Graham Greene, E. M. Forster and Kingsley Amis.  (Evelyn Waugh, a bit of a spoilsport, sent a missive opposing the publication.  He apparently didn't think much of Mr. Lawrence's literary contributions.)  If you don't have a copy of the work in your library (and, sadly, I do not), this would certainly be an interesting one to have.