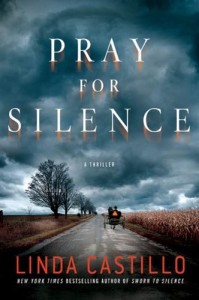 Hurray!  Another mystery series!
Regular readers know that I love a good mystery series, and Linda Castillo's novels featuring Kate Burkholder have all the indications of a good series.  In Pray for Silence
we've got a main character with an interesting background and character flaws that will keep things interesting, a problematic love interest, engaging minor characters and a good setting.  Actually, the setting is what might cause the most trouble, in the long term; we'll have to wait and see.
Painters Mill is a small town in Ohio with a large Amish population.  Kate Burkholder heads up the police force — she was raised Amish, but did not join the church, a difficult decision for any Amish teenager, but one with very ugly roots, in her case.  She drinks too much (way too much, in my opinion), but she's a good, solid police woman.  And then one night, one of her detectives makes a horrible discovery…
The Plank family has been murdered — all seven of them.  The murders are brutal and sadistic and the victims are Amish.  What kind of person tortures little Amish girls?  It's staged to look like a murder-suicide, but Kate's instincts tell her something different, and the evidence eventually proves her right.  Now Kate has to figure out which of her friends and neighbors is a monster.
She gets some help from another troubled cop, John Tomasetti.  He and Kate started a relationship in the first book in the series, Sworn to Silence
, when they worked together to catch a serial killer in another case that dredged up bad memories for Kate.  This case has the potential to do the same thing — Kate can see strong parallels between herself and one of the victims, Mary Plank.   Leads in the case keep leading back to Mary — she is the key to all of this and figuring her out will take Kate back to some ugly memories of her own.
John Tomasetti also has his demons.  Kate is reluctant to call him in because she's afraid of hurting him — John's family was tortured and murdered, and family cases are always hard for him.  What she doesn't know is that he is dealing with some serious professional setbacks, and helping her could cost him a chance at saving his career.
This will be an interesting series, I think.  The writing is good, the mystery had plenty of twists and turns, and the characters are interesting and engaging.  The problem I foresee is the setting; you can only have so many serial killers in a sleepy little Amish town before it becomes ridiculous.  It will be a challenge for Castillo to keep coming up with interesting puzzles for Kate, while not turning Painters Mill into the serial killer capitol of the Midwest.
This is the second book in the Kate Burkholder series; before this, Linda Castillo was known for her romance novels.  Harlequin Intrigue?  I'm pretty sure I won't be reading that part of the backlist, but they will make great Christmas gifts for my mother.  She's an old Harlequin fan and she loves a good mystery.  I think she'll really enjoy these.
I received my copy of Pray for Silence
through LibraryThing's Early Reviewer Program, where publishers provide review copies of books to interested readers.