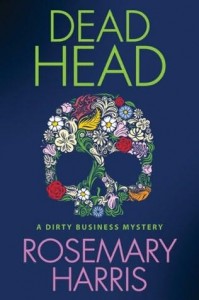 Paula Holiday left the stress and grind of New York City for a "smaller and simpler life" in Springfield, CT. She runs a landscaping business, Dirty Business, helping realtors dress up the houses they're selling and local businesses put in pretty patios. Her friend and client, Caroline Sturgis, has approached Paula about opening a business. The offer appears to good to be true and you know what they say about offers like that. When Caroline is arrested and "Monica Weithorn" is the name on everyone's lips, Paula agrees to help get to the bottom of this identity mystery in Dead Head
by Rosemary Harris.
Paula's life in Springfield centers around the Paradise Diner — a local greasy spoon where everyone from the yuppie wives (known as the Main Street Moms) to the truck drivers passing through can stop for a good meal. The cook, Pete, has a penchant for celebrity chef cookbooks and Paula is often called on to sample his new creations. The owner, Babe, is easily my favorite character in this story. She's a former back-up singer who once toured with the Jimmy Collins Band and now dispenses her wisdom with a slice of pie and a cup of coffee. I loved it when she told a grouchy goth waitress, "you don't wanna be looked at, lose the nose ring and the eyebrow bolts. Otherwise, wear your freak flag proudly." And I love the way she thinks about her life:
"Someone once told me there are only two stories: a man goes on a journey and a stranger comes to town. The first half of my life, I went on a journey. Now I'm here and the people who come to the diner are the ones who come to town."
Paula's friend, Caroline, may not be who everyone thought she was, and her husband asks Paula to help him get to the bottom of things. Someone played the snitch and there have been several unfamiliar faces hanging around Springfield these days. Trucker drivers, a charming man asking the Main Street Moms for real estate advice, and a priest interested in buying a garden center. One of them may have turned Caroline in, or it might be someone local. Some folks suspect Paula — she and Caroline were close — so snooping around might help to clear Paula's name. That is, as long as it doesn't get her killed.
This is a great little cozy mystery. Cozies are the kind of stories that take place in small towns, with nice folks that remind you a bit of your neighbors. There's usually not a lot of violence or sex, certainly nothing too explicit. Which means, of course, they are missing a lot of the things I really like in my mysteries! But there is definitely a place for a more sedate story, especially when it comes with such entertaining characters.
Dead Head
is part of the Dirty Business mystery series.  There are two earlier books, The Big Dirt Nap
and Pushing Up Daisies
; the newest, Slugfest
, is due in April. My copy of Dead Head was an Advanced Reader Copy provided by the author. For more on Rosemary Harris, check out her website.