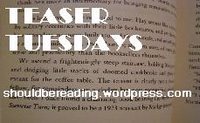 I cannot believe a whole week has slipped by and I haven't had a post! Well, I sort of can — last week I was out of town and pretty busy, and this week has started out rough. But I finished a couple of good books and I have a great teaser this week from my latest, Winter's Bone by Daniel Woodrell. It's a book that makes me very angry for Ree Dolly, though she is not a girl who needs anyone else to stand for her. The writing is haunting and beautiful, and I'll be done with this one all too quickly:
"Ree followed a path made by prey uphill through scrub, across a bald knob and downhill into a section of pine trees and pine scent and that pious shade and silence pines create. Pine trees, with low limbs spread over fresh snow made a stronger vault for the spirit than pews and pulpits ever could."
I don't think there is anyone who has ever walked through a pine forest in the snow who would not agree. Check back later this week for my review.
What's teasing YOU this week?