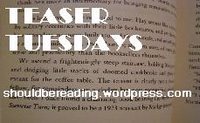 Welcome to another edition of Teaser Tuesday, the weekly meme where you grab your current read and give us 2 teaser sentences.  Remember, 2 sentences, no spoilers, and be sure to tell us about the book so we can rush out and add it to the TBR list.
This week, I've just finished Dead Head by Rosemary Harris.  It's a fun little cozy mystery with interesting characters that isn't too cozy.  Here, Babe — former back-up singer and current diner owner — talks to one of her waitresses.  I chose this teaser because I agree so strongly with her sentiment:
"Hey, Terry, you don't wanna be looked at, lose the nose ring and the eyebrow bolts. Otherwise, wear your freak flag proudly," Babe said, sympathetic but firm.
Absolutely right, in my opinion (although I would have told her to fly her flag).  It's a fun book — look for the review later this week.
What's teasing YOU this week?