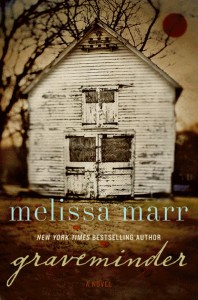 "Sleep well, and stay where I put you."
Last Friday, I got on a plane in Minneapolis. It had been a very long day and I was extremely tired. I opened my new read, Graveminder
by Melissa Marr, thinking I would read the first chapter while they finished boarding and got through the announcements. I planned to sleep the rest of the way home…187 pages later, we landed in Cleveland. I hadn't gotten a wink of sleep. Instead, I was utterly absorbed in the book, wishing I had just another hour in the air so I could finish it.
Claysville is an interesting little town:
For a small town, Claysville had a high number of graveyards and cemeteries. By law, everyone ever born within town limits had to be buried there; consequently, the town had more deceased residents than living ones.
It's an odd requirement. Just as odd is the state of those burial places: they are pristine. Maylene Barrow is in charge of their upkeep and there are no weeds, no graffiti, no dead flowers. She spends a little time at each grave, sharing some words with the departed — perhaps bringing them a sip of whiskey or a drink of water. But don't be fooled. This is not some eccentric old lady, visiting with her departed friends. The graveminding that Maylene does is serious business — deadly serious.
Rebekkah Barrow is Maylene's granddaughter. She has spent years running from commitments that would tie her down, including her feelings for Byron Montgomery. Byron is the son of the town's Undertaker, and Rebekkah is about to find out that this is a tie she cannot run away from.
"You drank with the dead, son. You sign, or you stay."
Graveminder is really a great story. A fresh idea, engaging characters, and a style of storytelling that draws you in, teases you a bit, but still leaves you guessing. In the beginning, I was just a bit baffled; so much of what happens doesn't seem to make sense. Eventually, the pieces begin to fall into place, but there are still some twists and turns in store.  It kept me reading on the plane, when all I really wanted to do was sleep — that takes quite a story.
I don't normally read Young Adult fiction, so I approached this with a bit of reserve (Melissa Marr is also the author of a very popular YA series, Wicked Lovely). This is her first adult work and I didn't feel like I was reading a ramped-up YA novel. It was well-written, creepy and mysterious. I felt for the characters (although I wanted to smack some sense into Rebekkah) because they bear such a heavy burden if responsibility. There is a haunting quality to the story — not surprising, for a town that lives so much in tune with its dead.
My copy of Graveminder
was an Advanced Reader Copy, provided free of charge. I'm not sharing my copy. You'll have to buy your own.