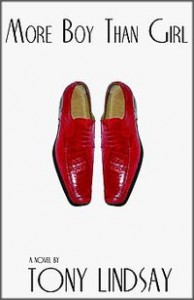 More Boy Than Girl
by Tony Lindsay is the story of a young woman who reaches out and takes what she wants — even if it isn't hers. Dai Break Jones pushes her way into a man's role and demands respect from those around her. It helps that she comes from a position of privilege as the daughter of a major crime figure, but she is tough and smart and fearless. Being a little less fearless might have done her some good.
This is a short book, only 130 pages,and Dai Break tells her own story. She has a maddening habit of talking about herself in the third person — this pimp, this thug. At first it was confusing; later it was a little annoying, but the language lends an air of authenticity to the book. It's written in the grammar of the streets, which drives my inner copy editor crazy, but it makes sense in context.
Dai Break is a lesbian. She talks about being 10 years old and wanting to be a girl's boyfriend. She dresses as a man (she wore Fruit of the Loom briefs to her first gynecological exam), she acts like a man and apparently her cohorts think of her as a man. She describes herself as a "stud broad," a pretty interesting term, and she gets violent when she thinks she is being disrespected.
This is really the story of life as a gang banger, told from Dai Break's very interesting perspective. I don't know enough about the inner workings of a major gang to speak to its authenticity, but it seemed real enough to suspend my disbelief. It's a hard, brutal world, but there is also friendship and loyalty in her life.
As you'd expect, there is plenty of violence and raw sex in the book, but I didn't think it was over the top. It was a fairly engaging story, mostly because of Dai Break, which kept me reading. I found the ending a disappointment — a little too convenient — but all in all, not a bad read, but definitely not for every taste.
Tony Lindsay is the author of six other novels and is currently an adjunct professor at Chicago State University, South Suburban College, and Westwood College. My copy of More Boy Than Girl
was a review copy, provided free of charge.