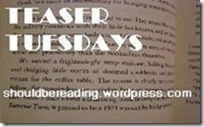 Welcome to another edition of Teaser Tuesday! You know how this works: grab your current read, pick two teaser sentences to share with us (no spoilers, please) and don't forget to tell us about the book. Then, head over to Should be Reading to check out the other teasers!
This week, my teaser comes from Forgetting English
by Midge Raymond. It's a slim little collection of rather haunting short stories (you can expect a review next week). This is from a story called "The Ecstatic Cry", which takes place in Antarctica, at a penguin research station.
"I believe that penguins mourn. I have seen Adelies wander their colonies, searching for mates that never return; I've seen chinstraps sitting dejected on empty nests. And I've seen the emporers grieve."
There is something so wrenching about the idea of those chubby, waddling, cheerful birds in mourning for a lost mate or chick. What's teasing YOU this week?