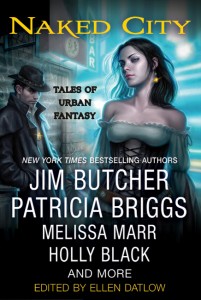 I can't tell you how excited I was to get Naked City: Tales of Urban Fantasy
. It sat on my To Be Read shelf for a while, as I finished up other commitments, and it taunted me, whispered to me, enticed me the whole time. There are some great authors included in this collection and I couldn't wait to dig in.
It certainly gets off to a good start! In "Curses" by Jim Butcher, Harry Dresden — the only Wizard listed in the Chicago Yellow Pages — is approached about removing a very old curse from a local sports team. I have a tremendous crush on Harry Dresden and I enjoyed the story immensely — it's exactly the sort of local flavor I love in the Dresden Files stories.
My favorite story of the bunch was "Priced to Sell" by Naomi Novik, author of the Temeraire series. I was completely unfamiliar with Novik's work, although I will certainly be adding it to my watch list. This is a story of the cut-throat Manhattan real estate market. Tough enough, in this economy, but even tougher when your clients are vampires, goblins and other magical creatures. You know it's going to be trouble when the condo board isn't concerned that your client's a vampire, they're just worried that he's less than 100 years old.
Another favorite was "The Projected Girl" by Lavie Tidhar, an Israeli writer. In this story, Danny becomes fascinated with an old magician's journal and seeks to solve the mystery of his vanished assistant. It's an interesting story and Danny, just thirteen years old, is still young enough to get caught up in magic tricks.
Finally, "Noble Rot" by Holly Black, author of The Spiderwick Chronicles, was the special surprise waiting near the back of the book. Agatha is a girl with a secret, taking care of a dying rock star. I loved this story, even if it made me a little queasy.
There are other stories — good, great and fair-to-middling — and in general I really enjoyed the book. I love the way it shows a broad range of urban fantasy; there's a huge variety of settings and fantasy figures. Editor Ellen Datlow does a great job of giving the reader just the right mix, so that no matter what you favor, there is bound to be a story that appeals to you. Even the stories I really didn't care for ("The Way Station", "Fairy Gifts") were good quality, if not my particular cup of tea.
All in all, this is a great collection of stories that will be popular with any urban fantasy fan — it really lived up to my initial excitement.
My copy of Naked City: Tales of Urban Fantasy
was an Advanced Reader Copy, provided free of charge.