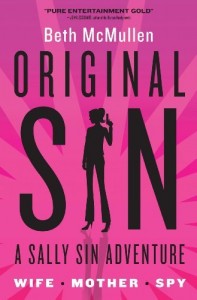 What do super spies do when they retire? Buy a beach house on a little island in the South Pacific? Spend their days squirreled away in basement offices in D.C., drinking bad coffee and filing reports no one will read? Maybe they don't get to retire — maybe they just keep on working until they blow their cover one last time.
In Original Sin: A Sally Sin Adventure
, Lucy Hamilton appears to be a run-of-the-mill suburban mom. She has playdates. She gets manicures. She has a handsome husband with an important job and an adorable toddler named Theo. But Lucy Hamilton barely exists. She has no paper trail. But she has plenty of secrets.
Sally Sin, Lucy's alter-ego, once attracted the attention of Ian Blackford. He was once the pride of the USAWMD but he turned his back on the agency and went rogue — and how do you hunt down your best agent, once he's on your Most Wanted list? He seeks out Sally, over and over, but she thought she was free of all that. Now Blackford is back and dragging Sally into a very dangerous game. Can Sally stop the bad guys, save the world and still make it to yoga on time?
This book was so much fun! I must admit, I rolled my eyes a little when I got it. It seemed like pretty silly stuff. (I still can't imagine walking away from an exciting career — even something as dangerous as espionage — to change diapers and drive the carpool. Different strokes, I guess.) But that's all part of the fun. Lucy is a little torn as well. She misses the excitement of her old job, bringing down terrorists and international criminals for the USAWMD, but she doesn't miss the danger and she loves her husband and her son very much. Luckily, her husband is the forgiving sort — he knows she's got secrets and he hopes one day she'll share them, but he doesn't push too hard.
Original Sin: A Sally Sin Adventure
would be a great beach read. It's light and funny, with plenty of excitement, and once I got past my eye-rolling, I really enjoyed it. My copy of Original Sin was an Advanced Reader Copy, provided free of charge.