More new books this week! I have been putting together my reading schedule for this year (my resolution is to be a little better organized so I get reviews out when I want them out — not early or late), and I've got some great reading ahead of me. Here's this week's haul:
The Boiling Season
 by Christopher Hebert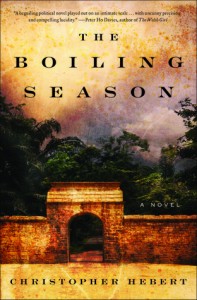 Growing up in the slums of a politically volatile Caribbean island, Alexandre dreamed of escape. What he lacks in opportunity, he makes up for in ambition, and soon the driven young man lands a position as caretaker of a derelict estate purchased by a wealthy foreign businesswoman.
While the country chafes under the dictates of a brutal new despot, Alexandre settles into a comfortable life in the mountains outside the capital, removed from the politican and social turmoil. Overseeing the estate's restoration evokes for him an innocent, idyllic past. When his new employer decides to turn the property into a decadent, jet-setting resort, Alexandre sees it as the culmination of his childhood dreams.
Losing himself in the creation of this opulent Eden, Alexandre severs the last links to his past. But the outside world is crumbling. Trapped in the middle of a war he has ignored, he is forced to face the limits of the paradise he has created when an armed gang of rebellious slumdwellers, battling to topple a savage regime, invades his sanctuary. Caught between past and present, despair and justice, Alexandre must choose between preserving the estate he loves and protecting those he has spent his life trying to escape.
So Pretty It Hurts: A Bailey Weggins Mystery
 by Kate White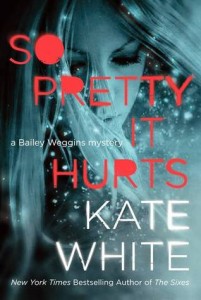 Bailey Weggins, the thirty-something, true crime journalist for Buzz, a leading celebrity magazine, needs a break. Plenty busy with her day job, her freelance work, and trying to get her first book noticed, she barely has time for her recently exclusive boyfriend, Beau Regan, much less herself. When Beau goes out of town, Bailey accepts an invitation with her friend Jesse to a music mogul's weekend house in upstate New York.
But, the relaxing weekend getaway turns out to be more like an Agatha Christie whodunit. A weird tension has infected all the guests—a glamorous crowd of journalists and models, including the famous, and famously thin, supermodel Devon Barr. An impending snowstorm only adds to the tension. When Devon's cold, lifeless body is found in her bed, Bailey immediately suspects foul play: she can't shake the memory of a fearful and angry Devon shivering in the woods outside the house, whispering , "I have to get out here . . . It's not safe for me."
When evidence goes missing from the crime scene, Bailey once again finds herself a moving target—running closer to the truth and farther from safety.
Elegy for Eddie: A Maisie Dobbs Novel
 by Jacqueline Winspear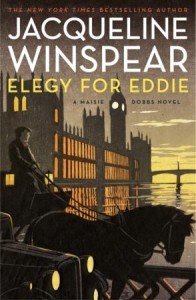 Early April, 1933. To the costermongers of Covent Garden — peddlers selling fruits and vegetables on the streets of London — Eddie Pettit was kindness itself. A little "slow," he was a gentle soul, more boy than man, with a gift for calming the most challenging horse. His recent death in a violent accident has shocked his friends and neighbors. They believe Effie was the victim of foul play, but the police won't investigate. Their only hope of finding the truth is Maisie Dobbs.
Maisie has known these men from childhood, when her father, Frankie, worked alongside them. Determined to do right by Eddie, she plunges into the investigation. The search for answers begins amid the working-class streets of Lambeth, where Eddie lived. But before long, Maisie is following threads of intrigue to a powerful press baron, a has-been politician lingering in the hinterlands of power named Winston Churchill, and to the doorstep of a writer who is also the husband of her dearest friend, Priscilla.