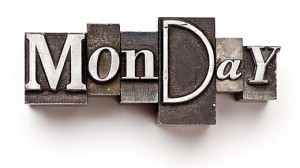 How can it be Monday again already? Sometimes, it feels like the week has a lot more Mondays than Fridays, and that just doesn't seem fair.
This is kind of a quiet week here at Alive on the Shelves. I thought I was going to be on the road, but it looks like I'm home for a few days. I've got 3 or 4 reviews that I need to get posted for you (including one I promised last week), along with some changes to the decor around here that I'm working on. Hopefully, I'll have some time to get caught up this week.
Monday: I've got a post a little later this morning about some new books on my shelf. Check those out to see what I'll be reviewing over the coming weeks.
Also, be sure to check out my HOT READS post – it's not too late to add your hottest read of the month to the list.
Tuesday: As always, I'll have a teaser from my current book. Right now, I'm reading The Mirage
 by Matt Ruff. It's an interesting twist on 9/11 and the war on terror and I can't wait to see where the story goes!
Wednesday: I hope to round up some new words for Wondrous Words Wednesday.
Thursday: My review of A Train in Winter
 by Caroline Moorhead.
Friday: I hope to have another review ready to go, probably The Informationist
, which I missed last week. But who knows? I've got at least 3 other books finished and waiting for reviews. Could be anything.
Also on Friday, a late night, adults only review of The Reluctant Muse. The nice folks at House of Erotica have got me on their list and they have been sending me some steamy stuff!
Saturday: Saturday Snapshot — hopefully, this week I'll be able to take a picture with no snow involved!
That's the plan for this week, so mark your calendars and stop back to see what's happening!