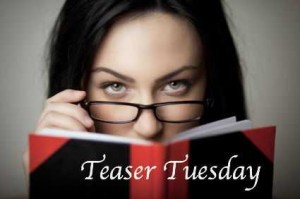 Teaser Tuesdays is a weekly bookish meme, hosted by MizB of Should Be Reading. You know the rules: grab your current read, open to a random page and share a two sentence teaser with us (no spoilers!). Be sure to tell us about the book, so we can add it to our TBR list!
This week, my quote comes from Carry the One
 by Carol Anshaw. It's about a group of friends who suffer a terrible tragedy and how it brings them together — and pushes them apart — over time:
"The bikers turned out to be tequila drinkers, bandana wearers, snake keepers. The whole places smelled like the inside of a very bad shoe, a shoe with a piece of cheese in it."
Oh, I can just smell the funk now! How about you?