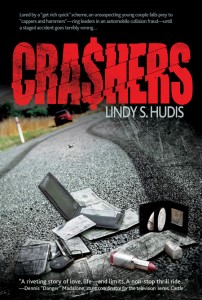 Today, I've got two cool things to share: an interesting guest post from Lindy S. Hudis, author of Crashers and a chance to win a Kindle Fire! Not bad for the middle of the week.
A little about Crashers
:
Fraudulent car accidents is a multi-million dollar racket, involving unscrupulous medical providers, personal injury attorneys, and the cooperating passengers involved in the accidents—and who also receive a portion of the illegal proceeds. Such is the fate of newly engaged, Nathan and Shari, whose joy is tempered by the dark cloud of mounting debt.

A chance encounter with a stranger in whom Shari confides her troubles proves fortuitous: he tells her of a get-rich-quick scheme that will put her and her fiancé on easy street. Seduced by the chance to move from hard times to good times in no time, Shari takes the carrot offered her, and finds herself acting as a "stuffed passenger"—the "victim" in a staged auto accident. The act goes according to plan and Shari gets her payday, but getting out and breaking free of the insurance fraud underworld will take nothing short of a miracle.

A modern day cautionary tale, Crashers is a true-to-life novel that uncovers how the innocent get lured into the scheme of "cappers" and "hammers."
And now…a few words from the author, Lindy S. Hudis:
 An Artist's Life For Me
While in the process of promoting my latest book, "Crashers", I thought I would speak a little bit about my "aspiring actress" past. Now, I was just an aspiring actress, mind you. I had tiny bit parts here and there. I was a dancing bimbo on Married With Children, and a nosey reporter on the daytime drama Sunset Beach. I was as interesting journey, being an actress wanna-be in Los Angeles, and yes, I have written a book about that, too.
However, I will talk about that on my next blog tour – when promoting that book.
It was an exciting yet heartbreaking time, but it was also a time of self discovery. I discovered that I am much better suited behind the scenes, like writing. My husband, a Hollywood stuntman, and I have started our own production company, Impact Motion Pictures. We are in the process of producing out own scripts and projects. So far, so good. We have several horror projects that we are bringing to life – myself being a horror fan! Another interesting journey.
Living in Los Angeles, California is an adventure to say the least. The wild and crazy city has inspired all of my literary works, because of the sheer drama and power of such a huge metropolis. "Crashers" was inspired by all of the shenanigans that go on across the hectic and intimidating Los Angeles freeways.
This is what inspired my story. I was in a minor fender bender several years ago. One of the parties involved decided to pretend that she was seriously injured and decided to sue all the drivers involved. It was a very minor accident, no injuries or damage at all. Anyway, I was so mortified that somebody would actually try to pull this kind of a scam that I decided to channel all of that anger into a story. There are dishonest people out there that are ready and willing to do anything for money, people need to be very careful.
So, I have discovered on this journey called life that I need to have that creative artistic expression, or my soul will just wither away. I think all creative people need that. So, in any capacity, I feel very confident that an artistic life – and one full of inspiration – is the one for me. Please visit my website at www.CrashersBook.com.
_______________________________
About the Author:
Lindy S.Hudis is a graduate of New York University's Tisch School of the Arts, where she studied drama. She is a former actress, having appeared on such television shows as "Sunset Beach" and "Married with Children". Her romantic murder mystery, Weekends, is currently available from Lachesis Press. She is also a filmmaker, her independent short film "The Lesson", which she wrote, produced and directed, screened at the Seattle Underground Film Festival. She is co-owner of an independent production company called Impact Motion Pictures. She and her husband Steve, a Hollywood stuntman, have just completed the screenplay adaptation of Charmaine Hammond's best selling book, "On Toby's Terms."  She lives in California with her family. Visit Lindy on the web at www.crashersbook.com.
And now…how about a free Kindle Fire?