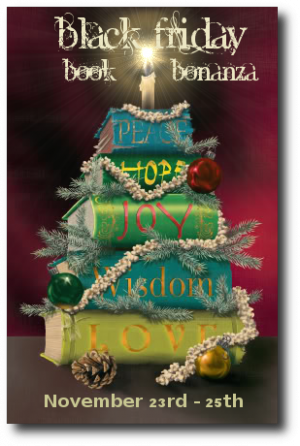 Welcome to the Black Friday Book Bonanza! I'm hosting this giveaway hop along with Heather from Book Savvy Babe and Jenn at the Bawdy Book Blog. You know how this works: you can enter my giveaway using the form below, then use the linky to connect with more than 70 other Black Friday giveaways! Why fight the crowds at the mall when you can stay at home and win free books!
I've got 2 boxes of books to give away for the Black Friday Book Bonanza. That's right: 2 boxes of books. I won't tell you exactly what's in each box — where's the fun in that? — but I can tell you some are new, some gently used, some hardcover, some trade paperbacks, some final copies and possibly an ARC or two. A nice mix of things to read over the holidays. I have no doubt that my winners will be thrilled.
But you've got a decision to make.
You have to tell me which box you want to win. I'm going to choose one winner from each list, so think carefully and then tell me:
Fiction or Non-Fiction?
I've got a Fiction Box and I've got a Non-Fiction box. The Fiction box has titles like Killing Them Softly (coming soon to a theater near you with Brad Pitt), The Mirage and So Pretty It Hurts. Right now, there are 8 books in the fiction pile and as I clear some shelves, it is constantly growing. You'll get as many books as I can fit in the shipping box.  As for Non-Fiction, I'm out to prove that just because it's true doesn't mean it's boring! We've got Dr. Drew's book, The Mirror Effect, Cruising Attitude (about flight attendants – loved it) and Fifth Avenue, 5 AM, about the making of Breakfast at Tiffany's, among other great titles. Each box will have 6-10 titles, depending on what I can fit in the shipping box.
There are just a few rules:
Contest runs through 11:59 pm EST,  November 25, 2012.
Open to readers in the US only (sorry, but I really got burned on shipping last year and I have had to scale back).
You receive one entry for using the form below.
You can receive up to 2 additional entries for sharing this contest on Facebook or Twitter, and providing a link below or in a comment. (If your accounts on Facebook and Twitter are locked, or "followers only", the entry will not count.)
You must provide a valid email in the entry below (the entry is not visible on the site). You'll have 24 hours to respond by email and claim your prize.
So pick your poison and fill in the entry form below. Take a moment to share this on Twitter or Facebook and include the link in the form, for 2 bonus entries. Then, start clicking on the blue frog below — there are a lot of other contests to enter!
Remember – you must tell me which collection you want to win!
YOU CANNOT WIN IF YOU DON'T CHOOSE A BOX!
Come on! There are more contests to enter!