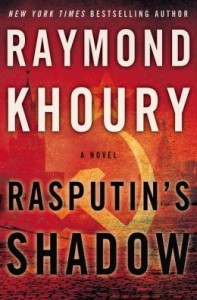 Today, I've got a special Q&A with Raymond Khoury, author of Rasputin's Shadow
. It's a thriller with historical leanings, tying together the past and the future with twists and turns and plenty of intrigue. I knew this guest post was coming up, so I was especially tickled to strike up a conversation in the airport the other day with a young man reading the book! One of the reasons I started doing this website is that I love talking about books, especially about books I enjoyed reading, and it is always fun to chat with someone about the books I've reviewed or posted about here on the site. (My fellow traveler was really enjoying the book, for the record.)
~~~~~~~~~~~~~~~~~~~~~~~~~
1.      RASPUTIN'S SHADOW is a great mix of technology, history, and action, but there is a little romance too. How do you work to balance these in the novel?
I guess it just comes from practice, really. I've been a storyteller for years, whether in screenplays of in my previous five novels, and I suppose it's just a personal preference for how to tell a story, for the pacing, for having a gut feeling about when those different aspects should pop up and not jar or crowd each other out. It's not something I consciously map out, I don't outline the books; I just spend a lot of time setting up the characters and their motivations, the triggers of the story, then I let them loose and the story—and all the elements you refer to—come in when it feels right.
2.      In RASPUTIN'S SHADOW, there are two distinct storylines that are woven together: one in early Russia and the other in modern-day New York City. How important is it for you to have both the historical and contemporary storylines in your novels?
I've now done it in four our of my six novels (THE SIGN and THE DEVIL'S ELIXIR are the two only-contemporary books). So it varies. I do enjoy writing the historical storylines, though, and I feel the readers really love going back in time and living through a parallel (though secondary) storyline, especially if it feels very "real," which is my aim. But in books like THE SIGN, for instance, it was never part of the plan, and I love that book (which is actually my longest to date) as much as its siblings.
3.      At this point in your writing career, what has been your most memorable moment as an author?
I guess I was spoiled early on. You have to remember that when I wrote THE LAST TEMPLAR (my first book), it was a personal challenge, I was just adapting the screenplay I had written in 1996 and I had zero expectation of it being a bestseller. So I remember vividly when, the week before it came out, my agent called and said "based on the numbers so far, we just might have a chance of breaking into the New York Times extended list (not the list itself). Which was amazing enough. Then that first Wednesday night after it came out, late at night, I got the call from Mitch Hoffman, my editor at Dutton, who told me we're on the list, and #10. Which was surreal. Then the following week, I completely lost my voice from nervousness while waiting for the call which would inevitably tell me we were off the list. I was walking back from a football game when Mitch called again and said, "Guess what? You're #5." Which, I was told, never happens. And it just kept getting better from there."
4.      What is next for you?
There are 4 stories fighting to make it to the blank page on my laptop screen, I wish I could write all 4 at the same time. I'm deep into one of them, it's a standalone, a bit of a departure from the Reilly books. Then as soon as it's done, the next installment of Reilly.
5.      What do you hope readers will take away from RASPUTIN'S SHADOW?
I hope they'll have fun and not be able to put it down! I hope they'll have enjoyed hanging out with Reilly, Tess, Leo, Rasputin, Misha, and the rest (maybe not so much Koschey). I hope they'll be curious to find out more about Russian's history in the first decades of the 20th century, the fall of the tsars and the brutal rise of communism. And I hope they'll have learned a thing or two about how our brains work, what's possible, what technologies are being researched out there and how horrific it would be if they were ever deployed…
~~~~~~~~~~~~~~~~~~~~~~~~~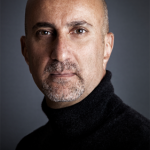 For more on Raymond Khoury, check out his webpage.
A special thanks to Alissa at Meryl Moss Media Relations for bringing me this opportunity – I always love hearing about great authors and getting great books!