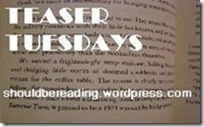 Welcome to another edition of Teaser Tuesday! You know how this works: grab your current read, pick two teaser sentences to share with us (no spoilers, please) and don't forget to tell us about the book. Then, head over to Should be Reading to check out the other teasers!
This week, my teaser is from Original Sin: A Sally Sin Adventure. This is starting out to be a very cute book about a former spy, now a suburban mom, who gets called back to active duty. Lots of fun so far.
"It has to be a little shocking to be strangled by a man wearing the saffron robes of a Buddhist monk. You would never expect it."
Now that is certainly the truth! What's teasing YOU this week?