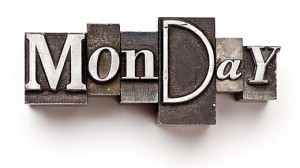 Gonna be a busy week! I've got some interesting things to share this week. Here's a snapshot of what's coming up:
Monday: I've got a bunch of new books that came in this week. This afternoon, I'll tell you all about them.
Also? It's my birthday! I wish I could spend it on the couch with a book, but sadly, I have to work.
Tuesday: I'll have a Tuesday Teaser from my current book.
Wednesday: I'm still catching up with reviews of the books I read in Key West. Wednesday, I'll have my review of Whiplash River
.
Thursday: I've got a review of one crazy book scheduled: Exponential Apocalypse: Dead Presidents
Friday: I haven't decided what I'll have for you on Friday. Maybe I'll find some interesting book news. Who can say?
Saturday: As always, Saturday Snapshot. I've got some great pics from my trip to Seattle.
Sunday: Another Quotable — interesting people, talking about books and reading.
That's a busy week! Be sure to check back and see everything!